Whether you're celebrating your 1st or 50th wedding anniversary, it's not a bad idea to give something to your wife. As you know, there's a designated theme for every anniversary, but you don't need to follow it. Besides, it's better if things are unexpected, even if you're together for many years.
It may be hard to choose a gift for your wife that seems to have all the things she needs. However, you should also observe a few weeks from your anniversary day if there are things she wanted, even if it's not that grant or expensive.
So if you're still looking for the perfect gift, then you should check the list below!
1. Trip for two
When was the last time you spent a whole weekend away together? Whether it's been months or years, having a trip together will strengthen your bond as a couple. If you have kids, and you can't find someone who'll look out for them, then at least have dinner in your favourite restaurant.
On the other hand, you can spend a weekend at the beach, or look back to your honeymoon venue. You can reminisce, and celebrate what you've become as individuals and as a couple.
However, when you plan a trip together, make sure that you don't have to think about other things such as work, bills, and other non-marriage-related matters.
2. Pink diamond jewelry
You may have already given her colourless diamonds in the past years, especially on your wedding proposal. So now, it's time to add a little colour and give her pink diamond jewelry. It's up to you to identify whether she like a pink diamond necklace, ring, or earrings.
Meanwhile, if you have enough budget, you can also give her a set of pink diamond jewelry. Don't you think it's great that she wears the jewelry you gave her on special occasions? It'll be perfect especially when you decide to renew your vows.
And even if it's not yet your diamond wedding anniversary, there's no problem giving her any pink diamond jewelry you think she'll like.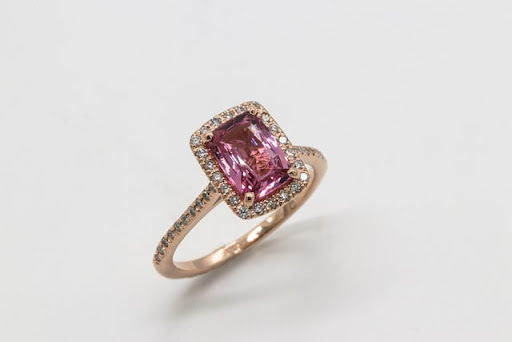 3. Her favourite perfume
She may have already ditched her favourite jeans or top, but she'll never get tired of wearing her favourite perfume. If you noticed that the bottle is almost half or if she doesn't have a spear, then you should do the honours of buying her a new one.
It's nice you compliment her scent once in a while, and gifting her a bottle of her favourite perfume will indicate that you like it on her, and the scent suits her personality.
It may have been years since she liked the perfume, but you can also think about the moment you first smelled her scent that made your stomach feels as if there are butterflies inside. It's like whenever you smell the perfume, you'll always remember her.
4. Photo collage
Collage might not be as popular as before, but it brings back memories you might already have forgotten. Of course, many social media platforms can give you old pictures to look at, but once the internet or the electricity is down, you won't have anything to remind you about the past.
So although it's kind of old-fashioned, it's still great to have a physical copy of the photos you've been through as a couple. You can buy a large frame, put together all the great photos and memories you have together, and have it on display in your living area.
Meanwhile, it'll be romantic if you also get another frame for your memories together in the future.
5. Gift card for a relaxing day
If a weekend trip can't be done, you can also opt for a spa day. Nothing's more enjoyable if you pause your busy days, and spend a day together at the spa. Besides, you should try having a couple's massage once in a while.
Forget all the problems you have even just for a day, and enjoy a relaxing time for your mind and body.
Aside from the relaxing spa day, you should also include other stress reliever home items such as scented candles, bath bombs, and rose petals. That way, she can also enjoy and loosen up even if she's at home.
6. Preserved flowers
Does your wife love flowers? If it breaks her heart to see the flowers you gave her gradually die after a couple of days, then you should opt for preserved flowers. Nowadays, many speciality flower shops cater to any flower needs.
For instance, you can also buy dried flowers if your wife enjoys looking at its minimalistic vibe. But when it comes to preserved flowers, although they might take only up to three years, that's better than your regular anniversary flower from the local shop.
Unfortunately, the natural scent of preserved flowers is no longer available so you can just pick a floral-like scent, and spay it on the bouquet. You can ask the florist for assistance regarding your preferred smell.
Are you ready to buy your wedding anniversary for your wife? If not yet, then you should think things through before buying something. Don't forget to share with us your final decision by leaving a comment below!