This is the end of wintery December and you have got so many wedding invitations for family and friends. But you have a problem with what to wear to a wedding to look good. Our shop has many varieties of saree available like printed sarees, art silk saree, banarasi saree, jacquard saree khadi silk saree, and tussar silk saree but if you are going for wedding of North Indian people you will find the banarasi saree for many ladies. So to keep eye-catchy and trending in banarasi saree we have sorted some beautiful banarasi saree for all wedding functions.
1. Banarasi Saree For An Engagement Ceremony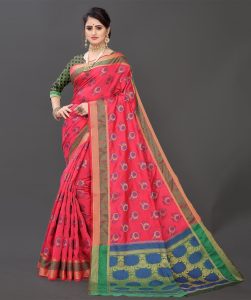 The first ceremony of the wedding is the engagement ceremony. In the engagement ceremony you will get introduced by new people so need to pay more attention to your look you can wear our this is our self-design paisley banarasi silk for engagement ceremony with its fresh pink color. This saree has a beautiful border with two design patterns the one in a line and another is of floral work. And also this wonderful banarsi saree fully with purple floral work and with nice blue colored pallu. You can wear medium to high weight jewelry on it. This paisley Banaras silk saree has a well-printed silk blouse to stitch according to your choice. 
2. Banarasi Saree For Mehndi Ceremony
The mehndi is the most important ritual in the marriage. and these functions are filled with full of ladies so need to aware about you look while preparing for mehndi function. But don't go with a heavy saree it will down the look of wedding ceremony look. For the mehndi ceremony function, we have different patterns in mehndi color a  woven embellished paisley banarsi silk-blend jacquard saree. This saree has a beautiful small floral work at the border and the whole saree is filled with small and medium-sized leaves design. This paisley banarasi silk blend saree has wonderful banarasi pallu with a leaves design.
3. Saree For Haldi Ceremony
The haldi ceremony is the heart of wedding function without this we cannot move towards final wedding rituals. And this is the the ceremony with all family and friends. We have typically haldi color sadi for this ceremony this is paisley banarasi silk saree. saree has a good combination of red and yellow color for haldi ceremony. This saree has a different kind of floral design on the border and pallu. This saree has a unique silk blouse which make a excellent combination with this saree.
4. Banarasi Saree For The Final Wedding Function
Now the last ceremony is of wedding rituals. This is a beautiful woven self-design embellished paisley banarasi silk-blend jacquard saree in rich read color saree with a plain blouse. This saree has a broad border that enhances your look. The full saree is covered with small floral work along with leaves work on pallu. The overall look is giving eye catchy look to you. You can wear heavy Indian jewelry on it to look more enriched.
So we have discussed the wedding saree to look good. I hope you liked my idea.