How to Take Care of Aging Skin: Not only do we have to face various health problems in growing age, but we also have to worry about the symptoms of ageing. As we age, its effect starts showing on our skin too. It is normal to see signs of ageing after one age, but some people have to face premature wrinkles, fine lines and lifeless skin. Eye serums and anti-aging creams can help reduce the signs of ageing. But if you want to avoid or get rid of the signs of ageing, then it is very important to take special care of the skin. So let's know how to take care of your ageing skin –
1. Protect the skin from the sun
It is very important to protect ageing skin from the sun. Because the rays of the sun make our skin ageing quickly. The signs of ageing soon appear on the skin due to exposure to the sun. To protect your skin from the sun, avoid walking outside at 10 am to 2 pm. Even if you have to go out of the house for some important work, then cover yourself completely. Also, apply sunscreen SPF 30 on the open area. Put sunglasses on the eyes, this will get rid of the month lines around the eyes.
2. Apply sunscreen at home too
If the rays of the sun fall directly in your house, then you must keep sunscreen at home as well. The skin is exposed to harmful UV rays from the sun, tanning beds and sunlamps. These rays accelerate the ageing of the skin.
3. Moisturise Skin Daily
By the way, everyone should moisturise their skin daily. But as the age increases, the skin becomes more dry, fine lines, wrinkles start appearing on the skin. In such a situation, it is necessary to moisturise dry skin. This keeps the skin hydrated, retains moisture in it and does not cause wrinkles quickly. Along with your face, you must moisturise the whole body, lips as well.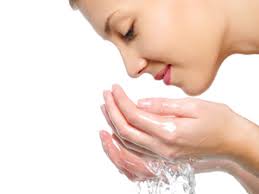 4. Wash face twice a day
Most of the people wash face only in the morning, they do not consider it necessary to wash face at night. But for healthy skin it is very important to wash the face twice. Washing the face at night removes easily the dirt and dust accumulated on the skin from the whole day. For this you can use a mild cleanser. Avoid using soap to wash your mouth. Washing the face twice a day also reduces the signs of ageing.
5. Get enough sleep
Just as getting enough sleep is necessary for our health, it is also necessary for our skin. By getting enough sleep, our tiredness and stress are removed. This makes our skin fresh. Sleeping is also called beauty rest.
6. Eat Healthy Food
Eating a healthy diet is also very important for healthy skin. A healthy diet promotes healthy skin. For this you need to take a balanced diet. You should include essential vitamins, minerals, protein and fibre in your diet. For this, consume a good amount of fruits and vegetables.
7. Don't Smoke
The effect of smoking daily can also be visible on our skin. Toxins present in smoking lead to ageing. The skin of people who smoke can become more dry, lifeless. Along with this, wrinkles also start falling quickly. If you have ageing skin, avoid smoking as well.
If you want to use anti ageing cream for skin care, then consult a dermatologist for this. Use any product on ageing skin with care.